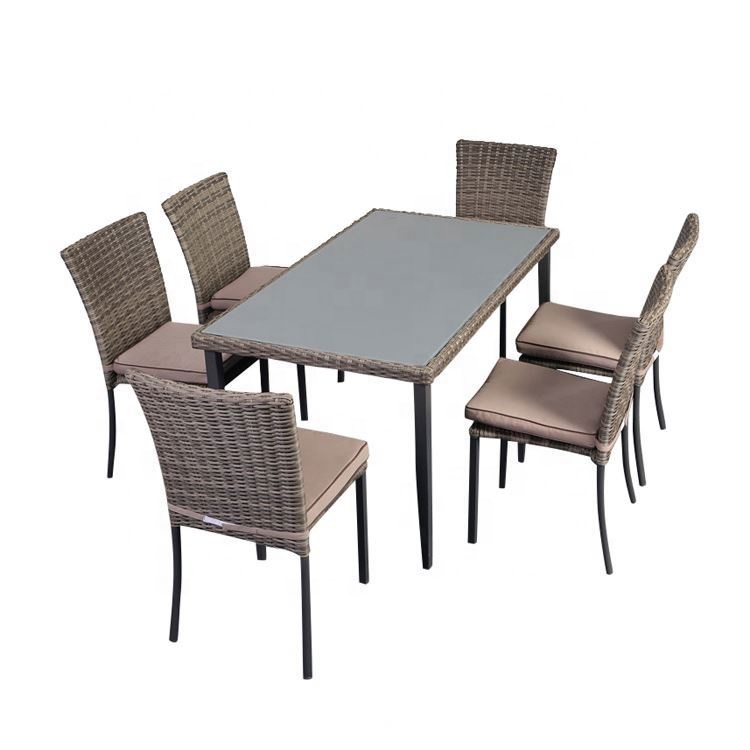 What is rattan furniture?
Just how much do you learn about PE rattan furniture? This is not real rattan, this is not standard botanic rattan. This is one type of plastic. We called PE rattan, It is polyethylene.
And then maybe you will certainly ask what's the different from PE and also PP. PE is polyethylene. Yet PP is polypropylene.In the contemporary outside furnishings, we made use of PE rattan change the natural rattan. Considering that the PE rattan is a lot more economical cost as well as more easy to tidy. I think is more comfy.
The PE rattan furniture is much more fit for all type of the exterior location, also healthy indoor.
It easy to tidy. The waterproof as well as UV intect is better than natural rattan. They can used longer than all-natural. Anti-UV Capability in outdoor is far better than natural.


Rattan garden furniture is believed to be a few of the best-lasting garden furnishings around but, like several various other points, for how long it lasts is straight based on exactly how well it has been made and what materials it has actually been made with.Synthetic rattan can come in numerous shapes and sizes as well as rattan yard furniture can be made using several various materials including PE, PU as well as PVC artificial rattans, steel frames or aluminium structures, and these can have a big impact on the length of time your rattan furniture will last.PU as well as PVC rattans are usually cheaper and less resilient forms of rattan and also frequently just feature a 1-year assurance, nevertheless, if you take care of them correctly you may obtain anywhere between 1 and also 3 years out of this furniture. Yet, this cheaper rattan weave is a lot more vulnerable to weather damage and also can typically go weak and crack.PE rattan is the finest quality rattan as well as is unbelievably durable. Numerous collections making use of PE rattan typically have an assurance from between 5-7 years which shows just exactly how long lasting this furnishings is. Plus, if you look after your furnishings you may have the ability to make your established last even longer than this. PE rattan is well known for its weatherproof top qualities and also is extremely immune to rainfall, snow, frost and also UV rays.The structures on your rattan yard furnishings will have a massive influence on for how long your furnishings lasts which is why it is extremely vital to check this prior to purchasing. Steel structures are the more affordable choice; nevertheless, they do corrosion, as well as this will have a long-term influence on your furniture. Many high quality rattan garden furniture collections are made with powder layered aluminium frames. Aluminium frames will not corrosion as well as consequently this indicates your yard furnishings is likely to last longer.The weave is additionally incredibly vital, as well as we would certainly recommend, where possible, to see a display room in order to have a look at the weave on rattan furnishings prior to purchasing. It is crucial that rattan is woven appropriately to prevent sagging and motion as, if done incorrectly, this can destroy the appearance of your furniture along with shorten its size of use.
Top quality rattan furnishings does not call for much looking after as it can be left outside all the time without weather damage, however, if dust does develop throughout durations of little to no use you can conveniently clean your furniture. To do so, clean it carefully with a soft towel and very diluted washing-up liquid. Make use of a little brush or tooth brush to obtain the dust out of the weave.For extra security of your set, we do advise a winter yard furnishings cover which will certainly shield your set from dirt as well as dirt as well as the aspects to aid your set last even longer.We think that high quality rattan yard furnishings, made with PE rattan, aluminium frames and also a strong rod or flat weave can last from 5-10 years if cared for. Obviously, these top notch sets can be extra pricey, so it can come down to personal choice regarding whether you like to change your yard furniture regularly with cheaper but lower-quality collections or to pay a bit extra as well as have a longer enduring collection that will not need changing for an excellent couple of years.
References
https://www.whitestores.co.uk/blog-posts/how-long-should-rattan-furniture-last